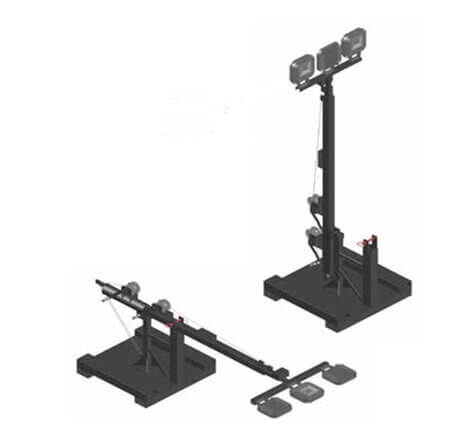 Accessories - General Purpose
Product Description:
Portable LED electric light tower with a structurally engineered painted steel base, eliminating the need for outriggers. Powered from any 120V outlet. Low operating costs, no re-fueling and zero maintenance. Environmentally-friendly, with no carbon footprint or noise pollution.
Applications:
360° LED retractable area lighting for parking lots, walkways, laydown yards, processing plants, production facilities, warehouses and open work areas.
Features:
Steel base includes two sets of forklift pockets - easy to load from any side
daisy chain up to four standard light towers together on single 20A, 120V circuit
Individually adjustable light fixtures
Optional photocell (automatically turns lights on and off at dawn and dusk)
Availability:
Standard product with 3 x 750W equivalent LED fixtures available for purchase and for rent.
Custom options available for purchase, including a fourth LED fixture and/or fixtures with alternative lumen outputs.
Compatible With:
General Purpose Extension Cord (120V)
General Purpose Remote Distribution Center
General Purpose Master Panel
General Purpose Sub Panel
General Purpose Staghorn Panel
For install information, specifications and detailed information, download the PDFs below or Find a Rep. If you are ready to purchase this product for your organization, request a quote by filling out the form below.