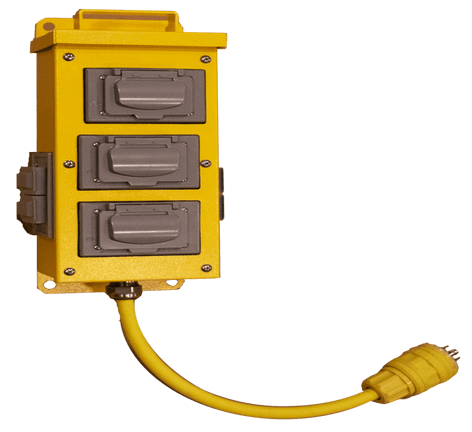 NEMA 3R aluminum panel enclosure with 4 x 120V weatherproof GFCI protected duplex receptacles fed from 2 x 20A, 120V, 1P breakers. Incoming power via 20A, 120/240V twistlock plug.
Applications:
Economic method of distributing 120V power across a jobsite, including elevated platforms
Ideal for providing 120V power to small tools, lighting and other electrical equipment
Availability:
Standard product available for sale and for rent
Compatible With:
General Purpose Remote Distribution Center
120/240V Twistlock Cord (Staghorn Feeder)
Contact us with any questions or for assistance with your temporary power needs.
For install information, specifications and detailed information, download the PDFs below or Find a Rep. If you are ready to purchase this product for your organization, request a quote by filling out the form below.